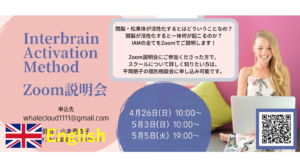 We are going to hold the Interbrain Activation Method webinars (free online seminar) on Apr.26th(10:00~), May.3rd(10:00~) and May.5th(19:00~) about 60 mins each. In this webinar we introduce what IAM® is and why IAM® is strongly recommended NOW.
Now is the time for us to choose IAM®.
Because it is a journey to end your finding or searching.
There are some questions.
Why we had tried a method and a product for health maintenance one after another, and why we couldn't continue them? Perhaps, it was because of the only supportive measures which add some stimulations or things on your body but couldn't solve your fundamental problems.
Adding and/or giving a stimulation from outside of your body gives you only a short-term change and never solve your fundamental problems. The reason for this is that there are reasons for each problem come to the surface and superficial measures have little and short-term effect.
Plus, there is an original and perfect medical doctor inside of your interbrain and it serves beautiful works beyond the reach of imagination. Even a shoulder stiffness, for example, is the result of a convulsive effort of our body to balance. It originates out of the needs.
There is such a huge amount of information out there saying you can get healthy or can solve problems by receiving/taking a stimulation and/or a product.
IAM®, on the other side, is the method that your simple movement activates your interbrain (the pineal gland, in specific) which has been referred to as the source of the human physical and spiritual potentials. Interbrain deeply involves in the maintenances of good health and beauty too.
In other words, IAM® can be said to be a paradigm shift in health management method and the key for the future of humanity since IAM® is a simple, risk-free, and self-standing method with limitless potentials to expand our consciousness. It is no longer just a therapy or healing method, but the modality to aid our awaking.
Our modern science so far knows very little about the mechanism of human body or life itself, and miraculous energy and potential are sleeping in our deep inside. 
In this webinar, we introduce the IAM® and the "Yawning lion method®" as a self-care version of IAM® which is the revolutionary core method since you can improve your health and expand your consciousness by yourself during the lifetime.

Let's put an end to your finding/searching now.